Tigz News
***For anyone still uncomfortable going out shopping (or can't), we are happy to continue FREE in-town delivery (over $25) or curbside service – Just give us a call (250-402-8716) and we will make it happen!
---
BLACK FRIDAY SUPER SALE – November 26th & Cyber Monday, November 29th
Follow us on Facebook to see our Black Friday Super Sale items and Cyber Monday Specials! A great chance to stock up for Christmas gifts.
**NOTE: Store Hours November 26th will be Noon-7pm**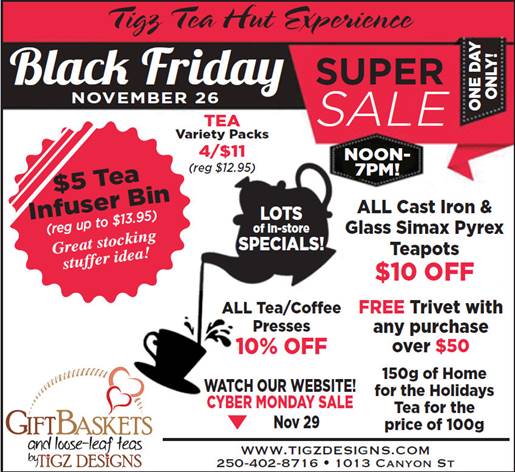 ---
SANTA FOR SENIORS

Let's make sure the folks at Swan Valley Lodge all get a Christmas gift under the tree again this year!
6th ANNUAL SANTA FOR SENIORS CHRISTMAS TREE officially started this week and we have already sold over 53 tags! Thank you soooo much to those of you who have stopped by to purchase one.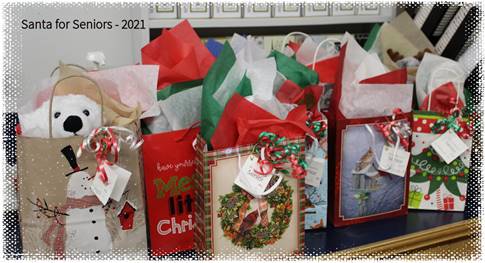 As years past the busy staff at Swan Valley Lodge have worked on supplying us a list of all the folks (first names only – for their privacy) at Swan Valley Lodge. They also note any allergies, and in past years gave us treat & gift ideas for them so that we get things suited for them such as single-serve items and small stuffed animals. We start purchasing special items for this event as far back as April so that we were sure to get a good selection of treats for the Holidays.
How does it work? We place a numbered Gift Tag with each of the folks' first names on our Santa for Seniors Tree – You pick a tag and donate your choice of $15, $20, or $25 (+GST). We match the number with the list we get from Swan Valley Lodge listing any allergies or special requests and make a gift bag up for each of the Seniors for a minimum of the amount you donate. The gals at Swan Valley Lodge have given us a delivery date, which we use in determining the cutoff date of December 17th (or until all tags are sold) so we have everything all ready to deliver December 20th in time for their Christmas party that week (89 gifts – plus we donate extra to be sure no one is missed).
---
Check our Facebook Pages for WEEKLY SPECIALS: facebook.com/TigzTeaHutExperience or facebook.com/tigzdesigns
---
You can find many delicious and wonderful Locally Made & BC Products in our shop.
---
We have a wide selection of TAKEYA products

---
Visit Us @ 1013 Canyon St. Downtown Creston, BC or Call 250-402-3871 or 250-402-8716
---
---
Showing 1 to 1 of 1 (1 Pages)
Featured
Latest